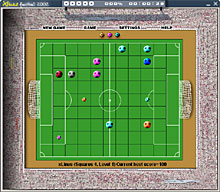 xLines 2.1
The modern interface, bright graphics, beautiful animation and remembering sound effects will not let you get bored. Besides the traditional game with tremendous number of options, the game has a unique mode – lines with pictures. Now you can not only to gather balls in lines (squares, crosses or blocks) but also reveal pictures, proceeding by this to the next level. The best scores are published in Internet. You can find dozens of skins, sets of pictures, and sounds for the game on our site.
As well you can create your own skins, sets of pictures and sounds by means of the powerful, simple and convenient SDK (Skins Development Kit). Multilanguage interface (including English, German, Hungarian, Russian and Ukrainian).

xLines - is an excellent logical game, which has unique capabilities:
in the first place it is "game with pictures" mode, in which pictures are revealed on the game field (set of pictures you can download from Internet or create by means of SDK);
splendid graphics - 2 standard skins and a lot of additional ones on our site, also you can create a skin by yourself by means of SDK;
5 standard sets of sounds and capability to load from Internet more than 20 additional sets of sounds;
huge number of options let you to tune game as you want;
Super Proposition! Creating skin by order! Give a present to your darling, friend or competitor ;-)
5 languages in the game, capability to add new languages.
The game is intended for home playing as well as in your office and simply enjoyable rest.