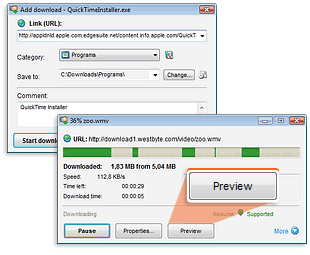 The standard file download window is replaced with the "Add download" window and the "Download info" window (you can disable these windows in the program options).
In the "Add download" window you can choose download category, specify download folder and add download description. Press the "Start Download" button to begin download. If you close the window then you will still be able to download the file in the standard (and much slower) way.
In the "Download info" window you can keep track of download speed, elapsed and left download time, download progress and more. You can suspend download by pressing the "Pause" button and continue downloading by pressing the "Resume" button any time later. By pressing the "Play" button you can listen to or view partly downloaded media files.