Internet Download Accelerator 6.7

Internet Download Accelerator effectively solves three of the biggest problems when downloading files: speed, resuming broken downloads, and management of downloaded files.

The distinguishing features of Internet Download Accelerator are superior overall performance and convenient user interface.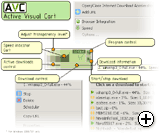 Internet Download Accelerator lets you to noticeably increase the speed of file download from the Internet using HTTP, HTTPS and FTP protocols. The acceleration is achieved by splitting a file being downloaded into several parts and downloading these parts at the same time. Internet Download Accelerator resumes broken downloads from where they left off from both HTTP, HTTPS and FTP servers.
To increase usability Internet Download Accelerator integrates with Internet Explorer, Chrome, Firefox, Mozilla, Opera, Netscape, Safari, Yandex.Browser, Vivaldi and others, replacing the standard download modules. Moreover, the program monitors the system clipboard and detects URLs in the clipboard. With IDA you can download and save video from popular video services.
IDATop
The most popular software, archives, documents
IDA integrates into IDATop file catalog enabling you to search for files and mirrors right from the program and get information about the most popular software, music, archives, documents etc. Having signed up you will be able to add comments for files, add files to your own Favorites available to you on any computer connected to the Internet.
Whatever your connection type, Internet Download Accelerator will use the bandwidth of your connection most effectively and download files extremely fast.
Power and useful tool for management of download categories. Possibility of automatic file type detection with automatic file placement to the specified categories. Unlimited number of categories and hierarchy levels.

Active Visual Cart
Internet Download Accelerator uses the original technology which lets you to work with the program without opening the main window with download list.
The program also contains:
- FTP Explorer;
- site manager for password and download folders management;
- scheduler;
- download speed control, automatic mode for the most comfortable browsing on the Web;
- dial for dial-up connection;
- search for files, programs, games, and music;
- IDA Bar - a toolbar for Internet Explorer and Firefox.


02/05/2016

Yet more video, now 8K and 60 FPS
With the new IDA 6.7 you can download high-resolution (8K) and high FPS (60 FPS) video from video-services. You can download more than 50 videos from playlists. We have improved integration with the majority of supported browsers and download using HTTPS. The extensions have been updated to support Firefox 43 and above. IDA on Windows 10 have got optimized notifications. Mirror search and video-service settings have been modified. Now you can import and export Referer links from/to .txtr files. The look has been polished to work with display scaling on Windows. Now IDA looks better on the Retina Displays (with the resolution 4K and higher). We have also improved the search form on the toolbar. Install the new IDA right now!
---
06/26/2015

IDA knows everything about files
IDA 6.5 knows how to get info about files before adding them to the download list. IDA has also learned to detect filetype and category better. Now you can check downloads conveniently for viruses using the context menu. Do not forget to use it for each suspicious file! We have improved sectioning algorithm when downloading video and music at high speed, increasing significantly download speed from some sites. If you are using adding files using a mask, you could probably get some not existing downloads in the download list. Now these erroneous downloads can be automatically removed. We have fixed some bugs and increased download speed of individual files from ZIP-archives. HTTPS support in IDA has been also improved. We have added a number of new features, fixed found bugs and did our best to make IDA as good as possible. Install the newest IDA and download yet more files!
---